Belclare Wellesley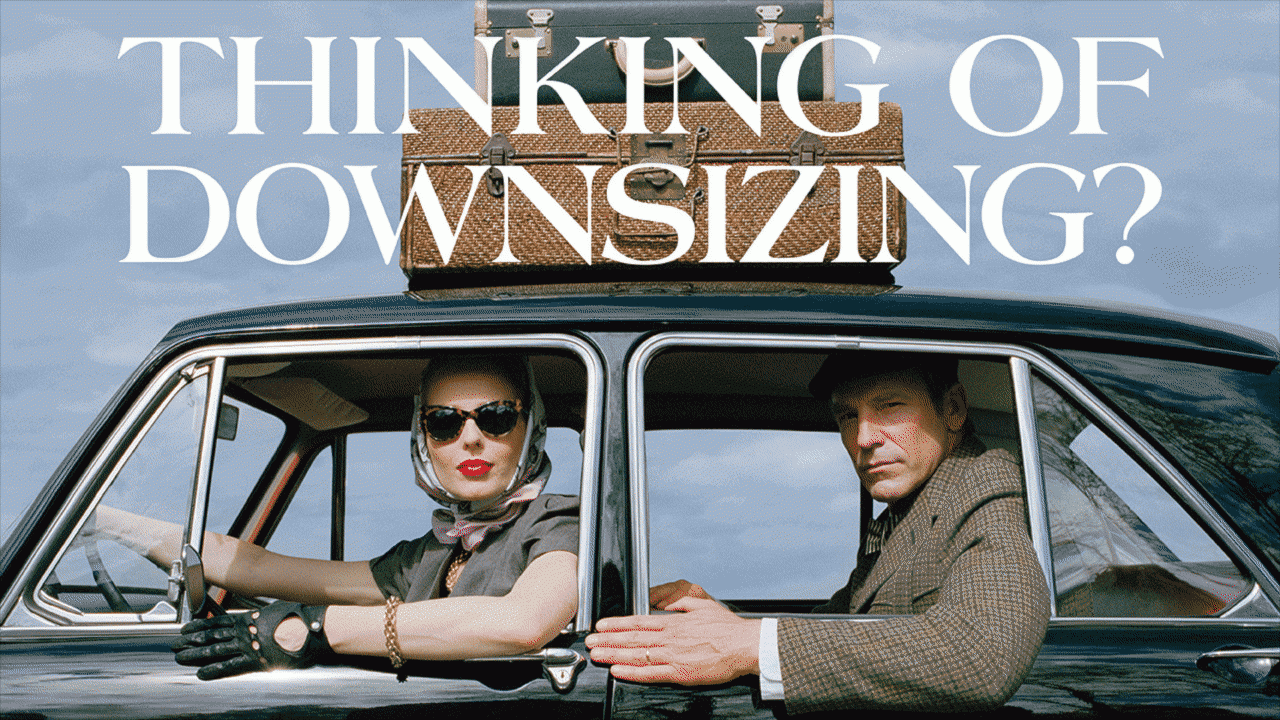 Services: Brand strategy and positioning, Naming, Tagline, Copywriting
Media: Website, Print ads, Event collateral, Newsletter, Exterior Signage, Social Media
Partners: Adams Design, BKJ Productions (website), Rodney Smith (photography), Signature Impressions (print production)
Belclare's 25 elegant condominiums were the first truly urban-style luxury condominiums in Boston's affluent western suburbs. Situated in the heart of Wellesley, Belclare offered the rare opportunity to leave the headaches of a large home behind without sacrificing luxury, proximity to family, or a familiar neighborhood.
Beclare was positioned as the obvious choice for those who want to live in Wellesley—primarily empty nesters—without being encumbered by maintaining a single-family home. It is elegant without being stuffy, located in the heart of a town they love, and promises convenience as well as beauty and luxury.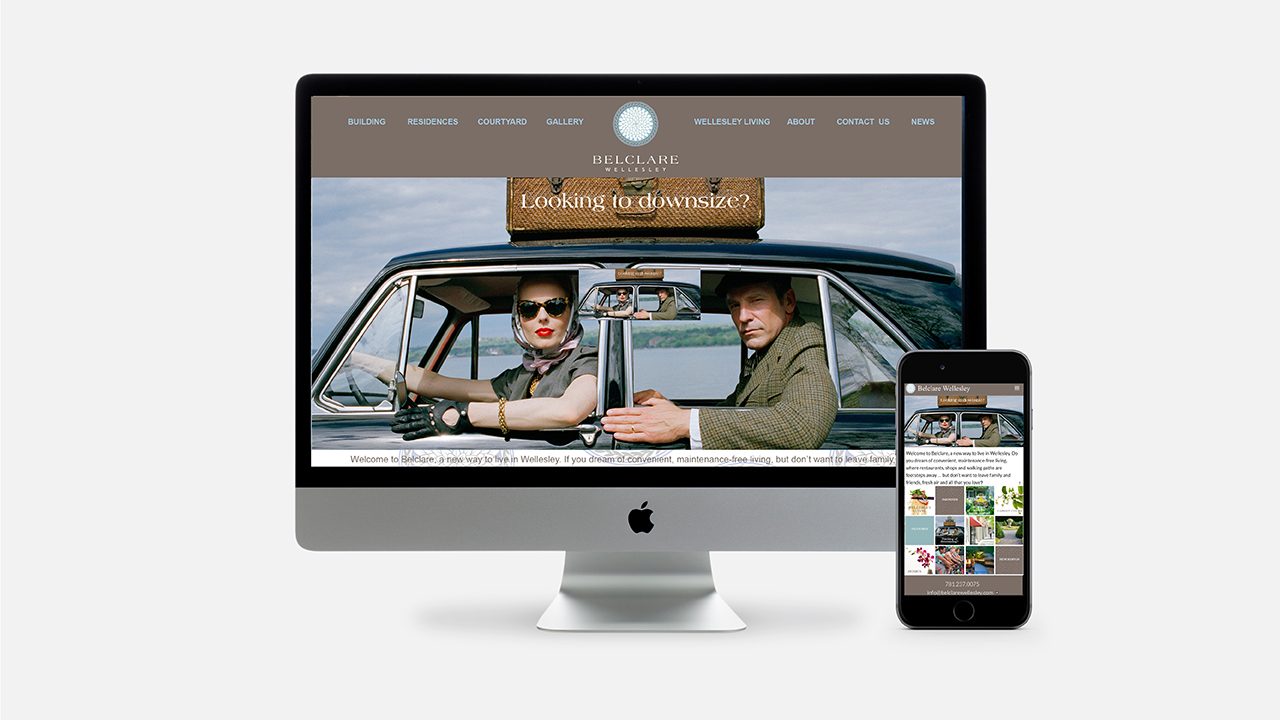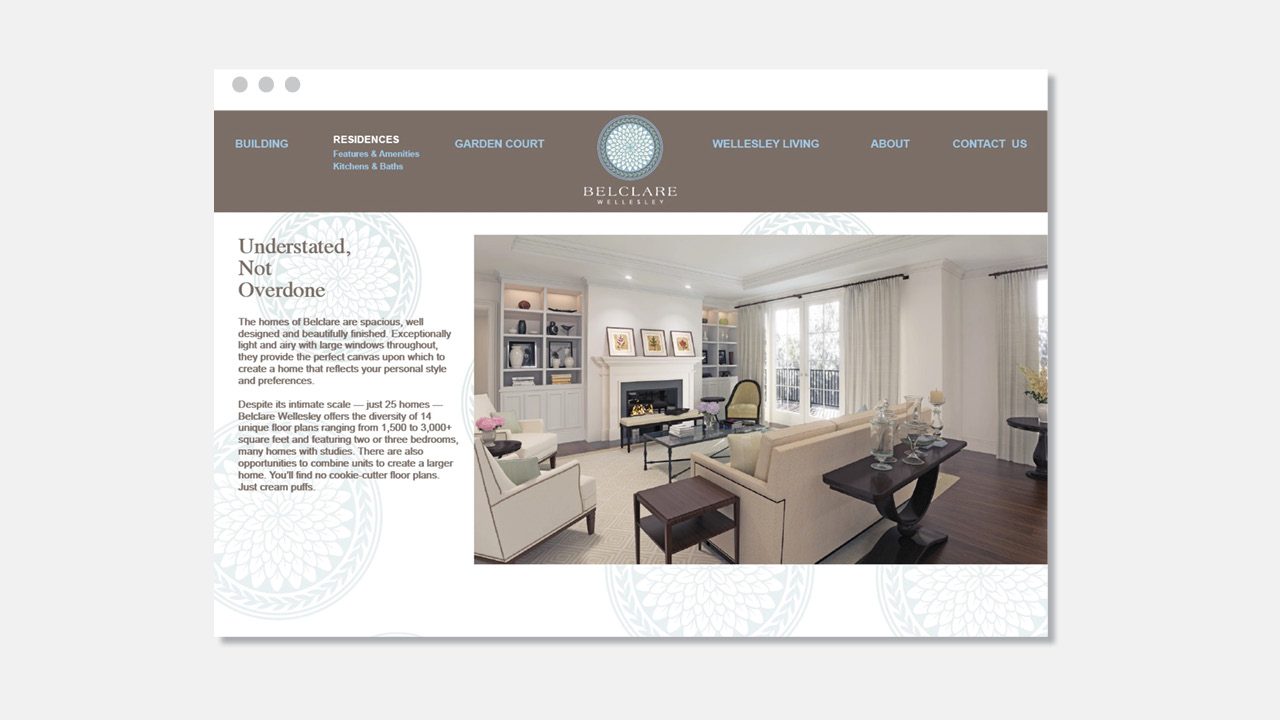 UNDERSTATED, NOT OVERDONE   
The homes of Belclare are spacious, well designed and beautifully finished. Exceptionally light and airy with large windows throughout, they provide the perfect canvas upon which to create a home that reflects your personal style and preferences.
Despite its intimate scale – just 25 homes – Belclare Wellesley offers the diversity of 14 unique floor plans ranging from 1,500 to 3,000+ square feet and featuring two or three bedrooms, many homes with studies. There are also opportunities to combine units to create a larger home. You'll find no cookie-cutter floor plans. Just cream puffs.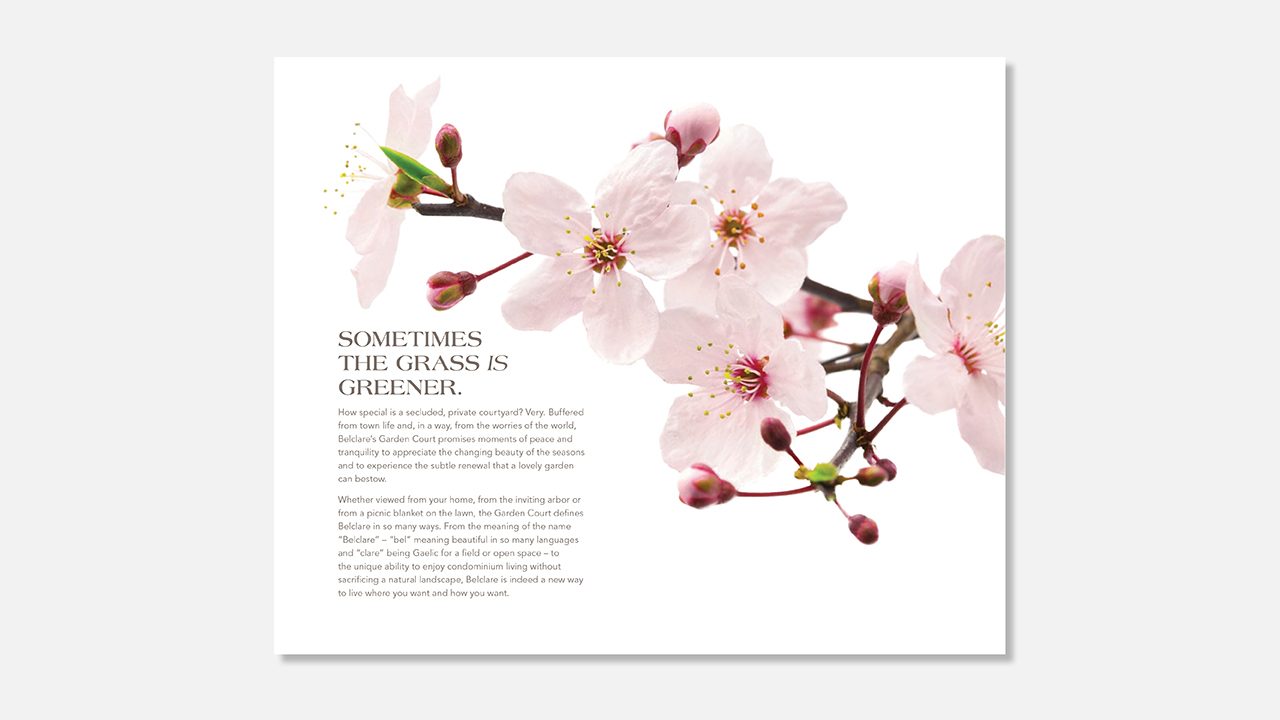 Brochure:
SOMETIMES THE GRASS IS GREENER.
How special is a secluded, private courtyard? Very. Buffered from town life and, in a way, from the worries of the world, Belclare's Garden Court promises moments of peace and tranquility, of appreciation of the changing beauty of the seasons, of the subtle renewal that a lovely garden can bestow.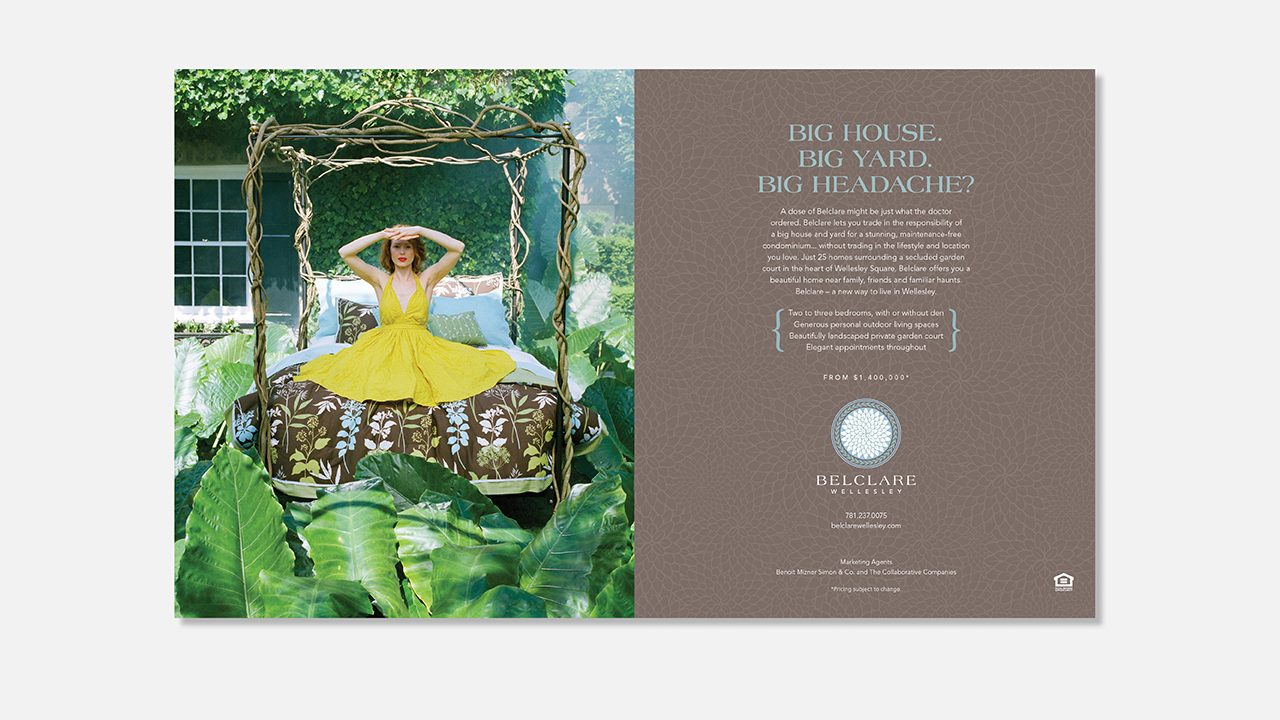 Print Ad:
BIG HOUSE. BIG YARD.  BIG HEADACHE?
A dose of Belclare might be just what the doctor ordered. Belclare lets you trade in the responsibility of a big house and yard for a stunning, maintenance-free condominium…without trading in the lifestyle and location you love. Just 25 homes surround a secluded garden court and open to the vibrant town life of Wellesley Square, home to wonderful shops, cafés and restaurants, and steps from the commuter rail to Boston. Belclare offers you a stunning home near family, friends and your favorite destinations.  Belclare—a new way to live in Wellesley.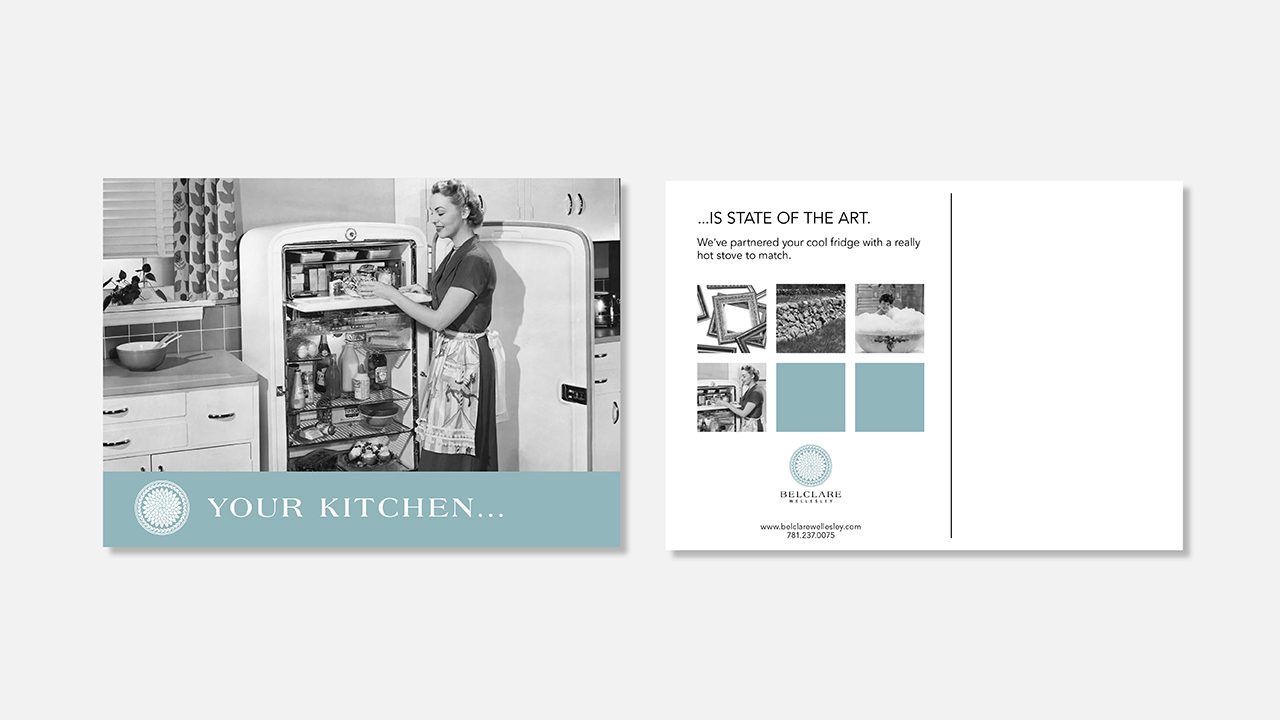 Construction Update Postcard:  YOUR KITCHEN… is state of the art.  We've partnered your cool fridge with a really hot stove to match.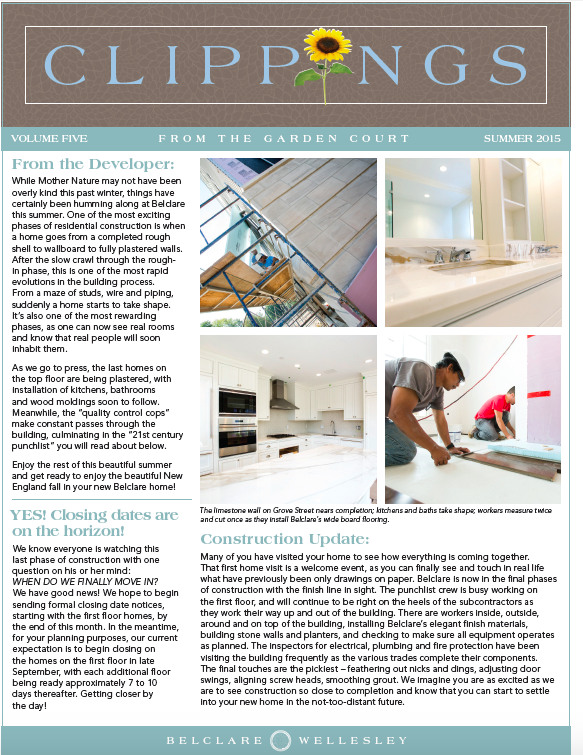 Newsletter