Old State House Museum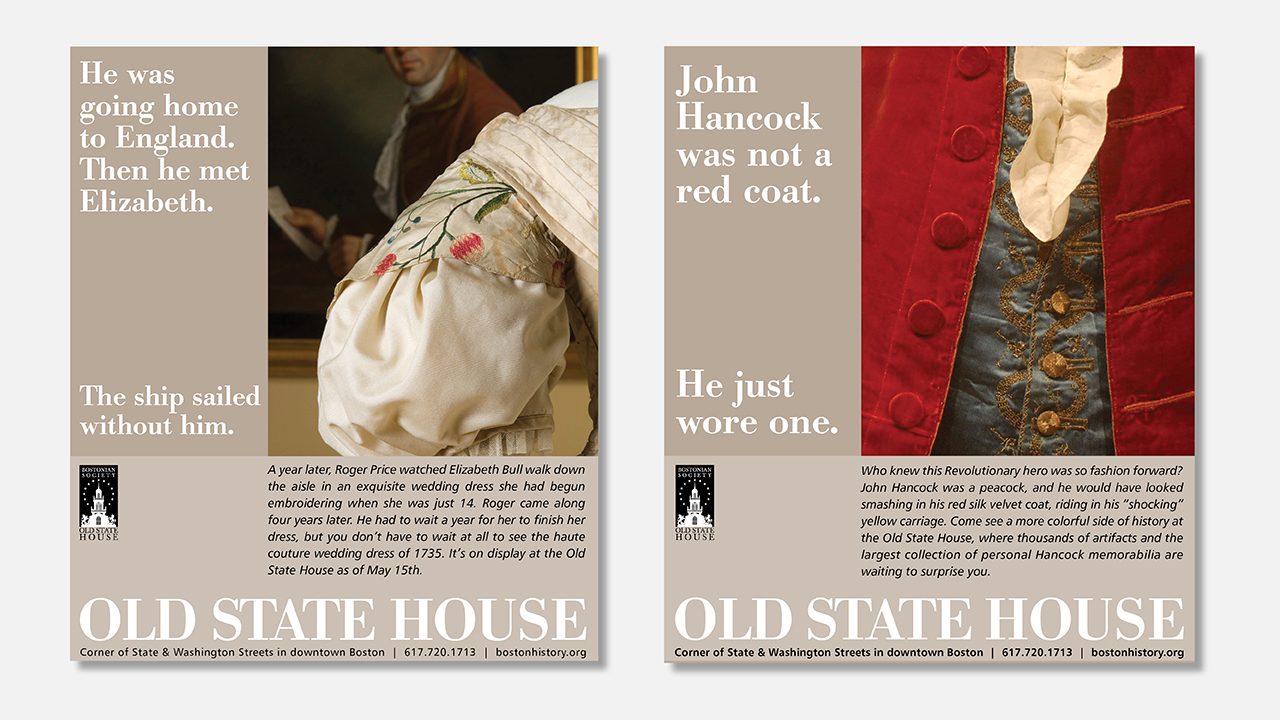 Services: Concept and copywriting
Media: Print and T advertising
Partners: Adams Design
The Old State House Museum in Boston holds an incredible—but little known—collection of artifacts from the City's Revolutionary period. This ad campaign sought to bring visitors to the Old State House by telling the stories of these artifacts and bringing them alive.
(Copy for above ads)
HE WAS HEADED HOME TO ENGLAND. THEN HE MET ELIZABETH.
THE SHIP SAILED WITHOUT HIM.
A year later, Roger Price watched Elizabeth Bull walk down the aisle in an exquisite wedding dress she had begun embroidering when she was just 14. Roger came along four years later. He had to wait a year for her to finish her dress, but you don't have to wait at all to see the haute couture wedding dress of 1735. It's on display at the Old State House as of May 15th.
JOHN HANCOCK WAS NOT A RED COAT.
HE JUST WORE ONE.
Who knew this Revolutionary hero was so fashion forward? John Hancock was a peacock, and he would have looked smashing in his red silk velvet coat, riding in his "shocking" yellow carriage. Come see a more colorful side of history at the Old State House, where thousands of artifacts and the largest collection of personal Hancock memorabilia are waiting to surprise you.