The Sudbury Residences
Services: Brand positioning and strategy, copywriting, tagline, SEO
Media: Print Advertising, Print Collateral, Website, Signage
Partners: Adams Design, graphic design and art direction; Dean Alexander, brand photography; Dave Desroches, view photography; BKJ Productions, website; Signature Impressions, print production
"Change perceptions." That was the assignment in marketing The Sudbury Residences. First, the monolithic Government Square parking garage that dominated the site (and the public's mental image of the area–would disappear, to be replaced by a new, multi-use (offices, retail, residential, parks) development that included The Sudbury's luxury condos. Second, the rundown, industrial Bulfinch Triangle was morphing into a vibrant and surprisingly accessible new neighborhood loaded with amenities. Hence the tagline "This changes everything."
The Sudbury's condos are not just high-end. They are high-in-the-sky (480′) aeries with astounding 360º views and amenities to attract a wealthy and sophisticated target audience. Our strategy in the ad campaign (above and below) was to use style and humor to depict the kind of discerning people who would live here.  Affluent, accomplished, and accustomed to the best, they are also fun to imagine as your neighbors.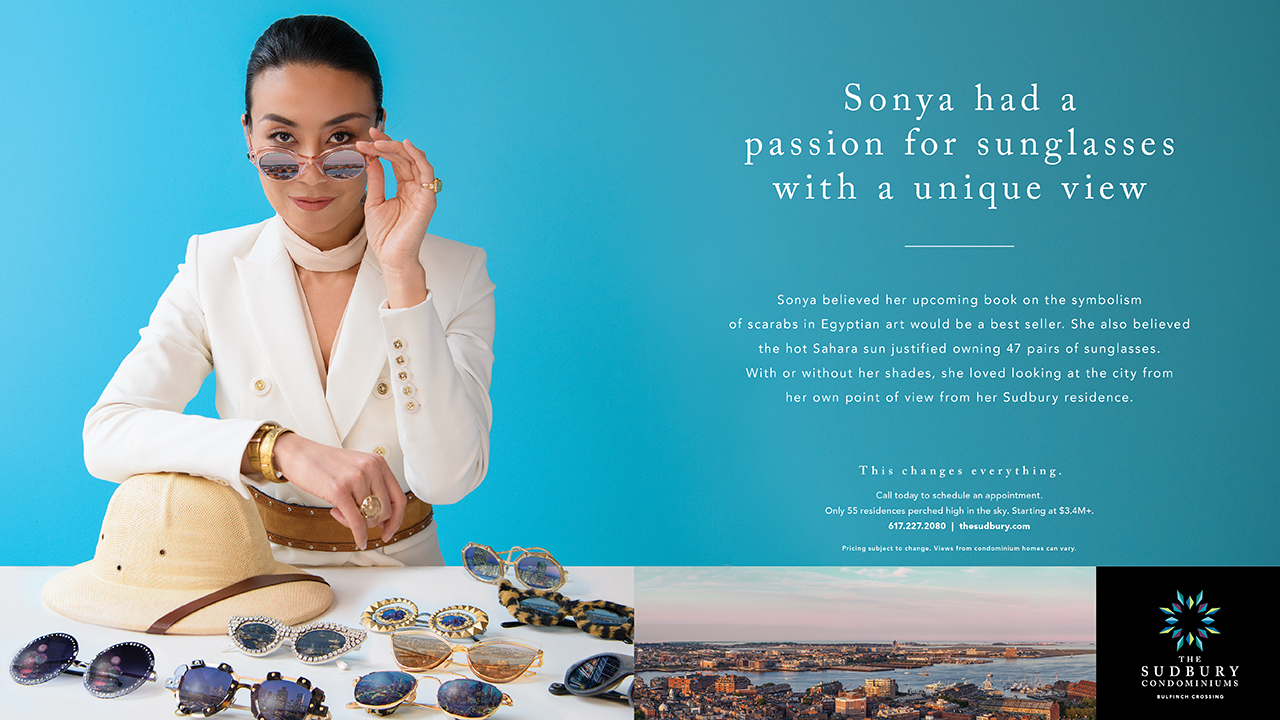 Prospects to the sales center leave with an oversized, beautifully produced brochure that, in addition to expected information on the residences, paints a wonderful picture of an exciting neighborhood. Fun facts, photos, and stories trace the history and the the many features and advantages of today's Bulfinch Triangle.
The website is a deep one, describing The Sudbury lifestyle and providing detailed information on the many exclusive amenity spaces and services available.